Why The Minnie Mouse Invitations Are The Most Ideal For The Magical Baby Shower
There are many occasions in people's lives that warrant celebrations A child's conception or birth, per say, is one such occasion which always brings joy to any household. Baby showers have been traditionally used in most societies to mark such occasions and are hence very important part of child birth. That being said, proper preparations need to be made to ensure that the day is special. The invitations, in particular, need to be very appealing. One of Disney's all-time famous character, Minnie Mouse, has brought laughter and fun to many households through the cartoon shows. However, she is now set to blow the minds of many mothers through her baby shower invitation cards.
Presentation is always key for the success of any event, a baby shower included. To achieve the right presentation, it is key that the host pitches in a few ideas on what they would like. Luckily, that is what the Minnie mouse baby shower invitations offer. The cards are either printable, digital or custom, giving the buyer the option to invite whoever they want in a unique style.
The flat invitations card measures either; 4″ by 6″, 5″ by 7″ or 5″ by 4 3/4″. Being created from the widely recognized white matte, it is very ideal for printing both bright and bold colors. Furthermore, the high quality matte provides smooth texture, bold contrast of colors and easy readability while also complementing colorful designs and photographs.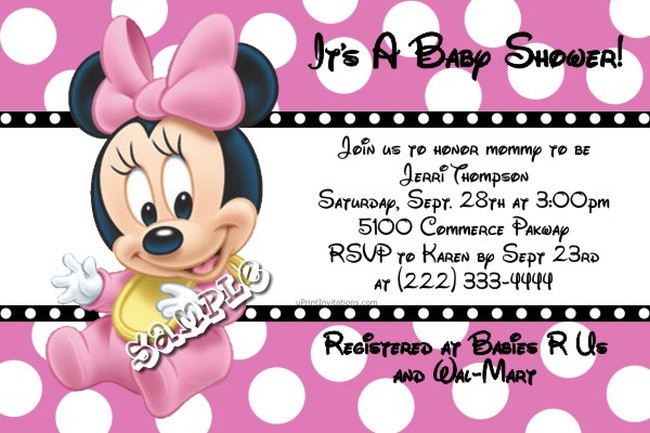 In addition to that, one does not have to stick with the same outdated writing styles that have been commonly used. There is a broad choice of font color and font styles to choose from to suite one's desire. Not only does one get to choose the font, they also have the ability to select from a wide range of background styles, including; polka dots, chevron, stripes, plain colors with zebra prints and many more. The invitation cards also come with white matte unprinted envelopes to provide the perfect cover.
Creating the invitation card is quite easy too. One can either choose to create the invitation cards directly from the Disney baby site or seek the services of similar design firms. Either way, one is firstly required to type all the details regarding the baby shower on a form that is readily available on the site. If one is dealing with Disney directly, they are then required to print out the invitations on regular paper, cut them off, envelope them and mail. Simple.
Most design firms create proof of the invitations first, according to instructions given, then e-mail the proof to clients. If one feels happy with the presented work and approves it, the invitation cards are created and shipped to the provided address after payment is made. All in all, it depends with what suits one's needs best.
In conclusion, the Minnie mouse baby shower invitations are a must-have for anyone planning to have a baby shower. Since the baby shower is important to both the mother and the baby, making wonderful memories of it is not an option. Therefore, given its high quality in terms of material and design, the Minnie mouse baby shower invitation would best serve this purpose.