Templates for Minecraft Party Invitations
Organizing a minecraft party can be very tricky especially when you do not know some of the things you need for the event. You do not have to spend a lot of money to make your kids happy. Below are some of the things you need to consider when planning a minecraft party.
Minecraft Party Invitations
Creating the best minecraft party invitations is not easy for a newbie. Fortunately, you can visit our website and download free printable invitations without spending money to hire someone who can create beautiful invitations. Some of the formats that you will find on our website include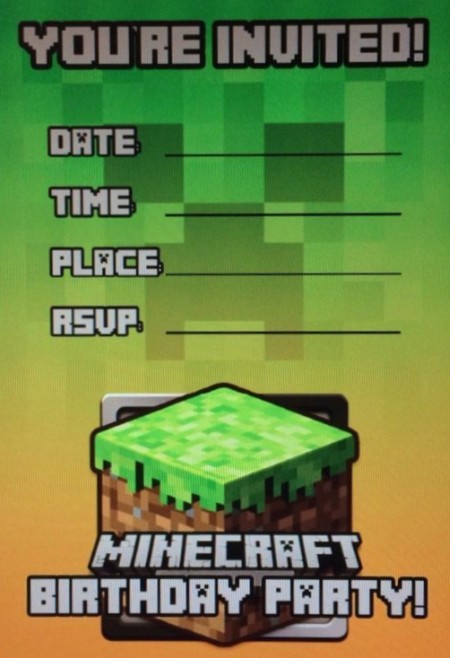 • JPEG Minecraft party invitations-The free and printable invitation that comes in JPEG format does not contain any information. Therefore, you need to print the invitations and then fill in the details of the party you want to throw for kids. These invitations are good when you do not have enough time. When writing the details of the party, you can use a pen or marker. The invitation will look more attractive when you have a short and nice handwriting. We have Minecraft party invitations with different dimensions hence you can choose any of them depending on the postal cost and size of envelops you want to use. The pixel art invitations have a number of items that kids will find familiar.
• PDF Minecraft party invitations-Just like the JPEG format, you can print the PDF invitations and then fill in information related to their party using pen or marker. In case you do not love the idea of writing on your invitations, you can type the details before printing them. They also come in different sizes giving more options for making your selection.
Minecraft party pintables'
After sending your invitations, the next thing is to figure out how you can decorate your party. One of the easiest and most effective ways to decorate your minecraft party is suing downloadable prints from our website. Our collection of prints includes banners, water bottle labels, tented food cards, welcome signs and treat toppers. The black and green black creeper balloons can also help you to make your party more colorful.
Minecraft dessert table
While coming up with your desserts, make sure that you draw inspiration from the game. This will make the kids attending the party to have more fun because everything around them is about minecraft.
Minecraft party cake
Minecraft party will not be complete without a cake. You can use different fondant squares to make a Minecraft party cake that will complement the theme of the party.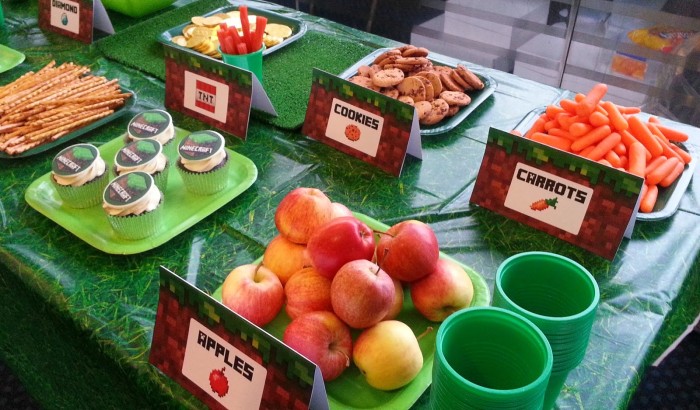 Minecraft party brewing station
Have you ever attended a minecraft? If yes, did you see a brewing station? A brewing station helps guests quench their thirst anytime they feel like doing so.
Minecraft party backdrop
With the help of colored paper plates, you can create a fantastic look behind the dessert table to emphasize the theme of the party.
Endermen cake pops
The list of things you need for organize a Minecraft party will not be complete without Endermen cake pops. These cake pops will capture the attention of everyone at the party.