Nothing brings more joy to a family than a baby. It signifies continuance of the blood line and most times, especially if the parents have been waiting for some time, it's the best news anybody can receive in their lifetime. You just cannot wait to hold them in your arms. Well, you don't have to. Even when the baby is on its way, you can begin holding parties for it. One such party is the gender reveal party where the gender of the baby is revealed to friends and family. In most instances, even the parents themselves are unaware of the gender and prefer to find out in the presence of their loved ones.
These parties are quickly becoming popular and it is understandable; they are a great idea! What usually happens is that after the ultrasound, the parents ask the doctor to write down the baby's gender on a piece of paper then put it in an envelope instead of announcing it out loud. You can then hand the envelope to your bakers so that they can bake the cake according to the gender, for example a pink filling for a girl and blue if it is a boy. At the store you could pick out two outfits for each gender, give the cashier the envelope and have them box the correct outfit. This would be revealed as a surprise later at the party.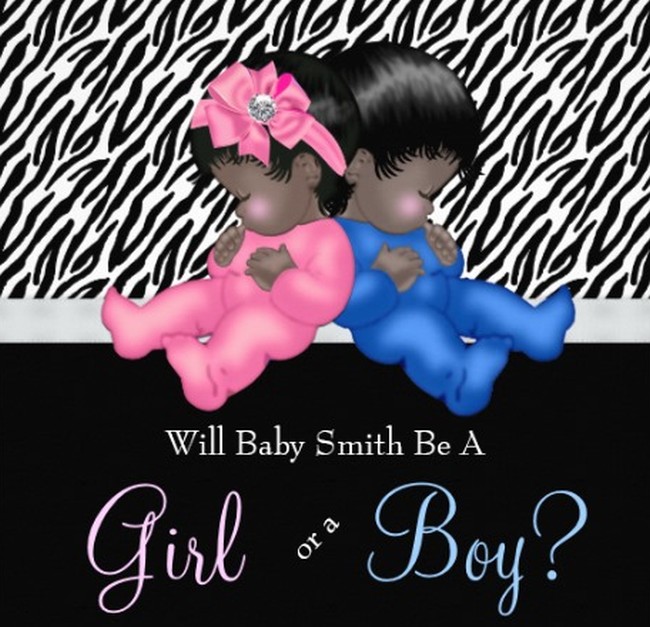 So you have all these great ideas four your party and cannot wait to know if you'll be buying toy cars or dolls. The only thing remaining is actually inviting the guests. You need to understand, first and foremost that not everyone is aware of what a gender reveal party is, and hence, as a precautionary measure, it is advisable to explain simply it in form of writing on the invitations. Speaking of invitations, one may have them custom made by professionals or you could do it yourself, especially if you are expecting few guests.
There are many ideas on how the invitations can be designed dependent on the creativity and preference of the parents and of course the budget. Party invitations in most cases however are created on blue and pink themes or guns and bows or anything else that depicts both genders. As they are for the baby party, they ought to lean towards a casual look and must be cute. They should provide information as to when and where the party will be held and what the guests should bring/wear if anything. To make it interesting, you could ask the guests to dress up according to their preference on what gender the baby should be, for example, team blue and team pink.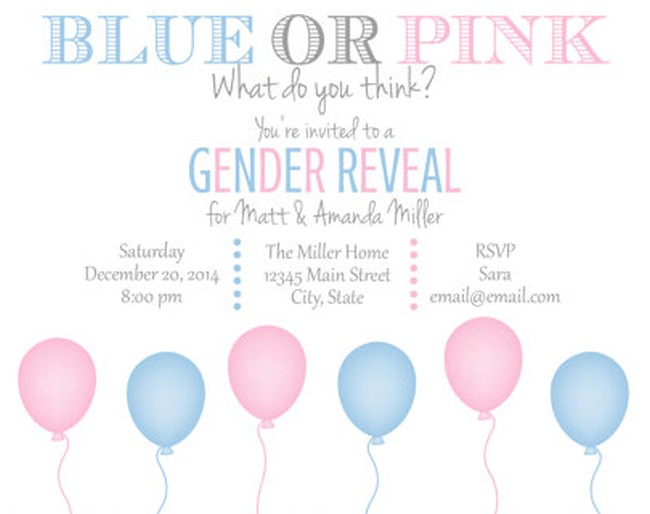 Gender Reveal Party Invitation Wording Samples
We can't wait to see
The look on your face!
Action Figures or Dolls
Which will it be?
Make your pick
Either HE or SHE!
You're Invited to a Gender Reveal Party
Find Out Whether Baby Will Be a Boy or a Girl
Join Us For Food, Drink and the Big News
HE or SHE? What Will It Be?
We're Having A
Gender Reveal Party
To Share the Big News About Our Baby
Will it Be
Cars or Princesses?
Join Us For A
Gender Reveal Party
To Learn Whether Baby is a BOY or a GIRL
Typically, the invitations ought to be sent out some few weeks before the big day so as to give the guests enough time to get ready. Also, it goes without saying that the party should be thrown only when the baby's gender can be determined by an ultrasound. Not too soon, and not too late either that it's easier to just wait for the baby to be born. There's no fun in that.