Strike Gold with these Bowling Party Invitations
Who does not love a round of bowling especially with friends? Bowling allows friends and families to bond as they compete who is the best and who is going to get the best score. It is addictive and fun. It lets people get the steam out of their busy and stressful schedules. It is quite an absorbing activity which should be planned before time and scheduled. So what better way to plan it than send out invitations to a game of bowling. You can organise as a family or individual to send out invites to your friends for a bowling tournament or a weekend of organised bowling routines. You really have many choices on the kind of invite you will send out since bowling can be a family event, it can be with the boys alone or girls alone. So your bowling party invitations will vary in their colors and designs. Bowling party invitations are mostly birthday themed.
Of all the bowling party invitations none captures the mood of the bowling occasion than the cosmic glow invitation. This can be a great way to send an invite for a night event as it captures the mood and character of the bowling alley. At night those alleys really glow with the neon lights flickering. This invitation has the glow effect which is brought out by how the colors have been manipulated as hues of blue are used to bring contrast that set the mood for might and they have the appearance of the glow. The background is dark but the detail on the surface, thanks to skillful color coordination, comes out as radiant.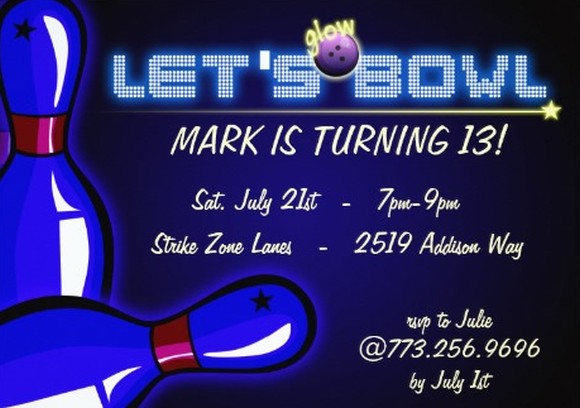 For color and life, you could chose to get a bowling invitation that is retro birthday invitation card. The invite has a splash of color with the primary colors of red, blue and yellow appearing prominently. All the bowling accessories take swaths of considerable space on the invitation, just like it should be retro style. The text is made up of wording which is big with nothing calligraphic, this is the perfect representation of old-school. Splash of colors, big wordings and big images, that is vintage. And it could bring everyone whom you invited as people respond to colors and abundance of colors is always an attractive prospect.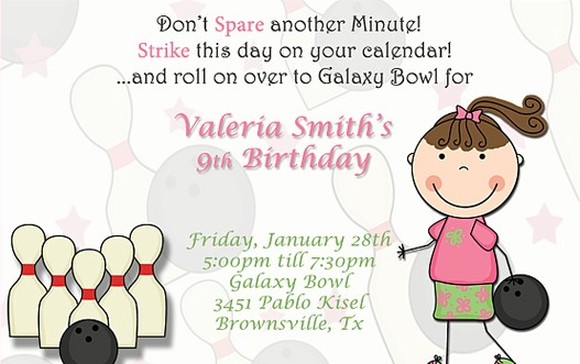 What about an invitation to someone who is turning thirty or forty? It is very simple. People reach a certain age, where they do not care much about the finer details of the invitations, they receive rather keeping it simple. The Adult bowling party invitations are just simple, they use minimum colors and details. The background is black and the bowling bowl is what features prominently. The text is kept to a limit, communicating the most important message. For this, there is a square alternative with full-bleed printing on both sides of the invitation. The paper that has been used is at the very top-end of finesse. Your invites will feel proud to be honored by these kind of bowling party invitations.